Hey Chick,
Exciting news – the results are in and our CHICK Power Charity Classes raised $853 for Big Sisters Canada (our goal was $750 so we are PUMPED to have exceeded it!)
On Oct 26 & 27th, it was sea of bright yellow across our FIT CHICKS locations as we sweated up at our "CHICK POWER" charity classes to raise funds and support Big Sisters Canada "Go Girls" Mentoring Program.
Not only did we want to help support this amazing program that for Canadian girls ages 12 – 14 that focuses on physical activity, balanced eating and self-esteem to positively shape the lives of young women and girls by helping them build a positive self-image BUT we also wanted to show our fierce female empowerment aka CHICK POWER!
Chicks were also encouraged to dress and accessorize in bright yellow (the color of friendship, energy and to us, self love and female support), write power words like "I am FIERCE" on their bodies and show their positive strength. Plus, we had some awesome prizes to give away to those who dressed up and donated to this great cause.
A drum roll please for our fierce winner of a free 4 week bootcamp….CONGRATS to Amanda S from our High Park Bootcamp!
Also HUGE SHOUT OUTS to Alize D from our Ottawa West Bootcamp who won a $25 gift card for showing the most Chick Power in her outfit and spirit.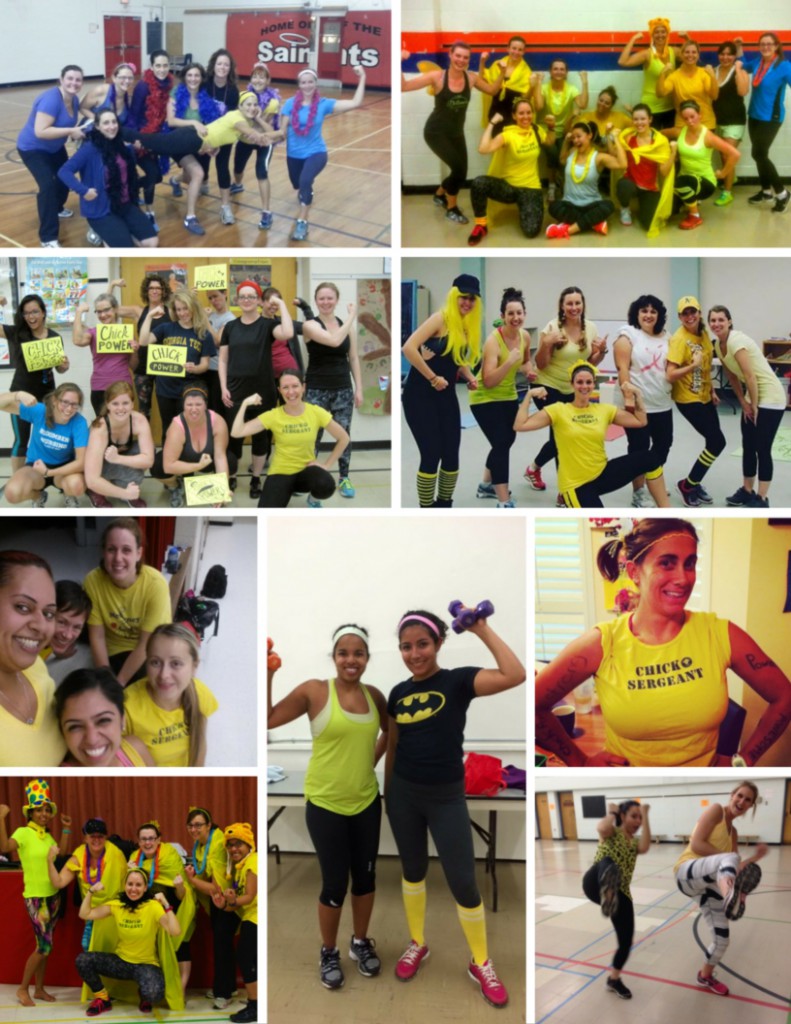 THANK YOU and cyber high fives to all our chicks across the country who came out to our CHICK POWER Charity classes, dressed up, donated and showed their fierce support!
By leading by healthy example and helping raise funds for their national "Go Girls Mentoring Program", we as a TEAM have helped them grow this program to include more young women and influence many young chicks lives in a positive light through learning the importance of fitness, health and self love to set them up for success for LIFE!
Congrats chicks and what's next for "Chicks for Change" charity events? Our annual Holiday Food Drive in Dec 2015! More info will be coming soon, so stay tuned.
Giving back does a body good!
Laura & Amanda
FIT CHICKS xo